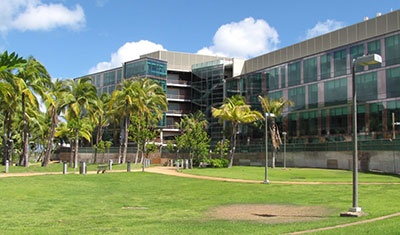 The University of Hawaiʻi at Mānoa's Office of the Chancellor has initiated a formal search process for the regular appointment of director for the University of Hawaiʻi Cancer Center.
"This is a critical position for not only the cancer center, but the State of Hawaiʻi. We are looking for a strong and respected leader to help the various components of the cancer center to unite around a shared vision and mission," said Chancellor Robert Bley-Vroman. "We look forward to a successful search for someone to lead the cancer center to reduce the burden of cancer through research, education, clinical trials and patient care with an emphasis on the unique ethnic, cultural and environmental characteristics of Hawaiʻi and the Pacific."
Chairing the 10-member Search Advisory Committee is Margaret McFall-Ngai, director of the Pacific Biosciences Research Center. The Search Advisory Committee will recommend finalists to Chancellor Bley-Vroman, who in turn will recommend a selectee to UH President David Lassner. The committee includes chairs, faculty, staff and students from the UH Cancer Center, as well as representatives of the Kualiʻi Council and community.
For the job announcement, position description, Search Advisory Committee members and an Opportunities and Challenges Profile, please see the website at www.manoa.hawaii.edu/executivesearch/uhcc.
Review of applications will begin on Wednesday, December 30, 2015, and will continue until the position is filled.