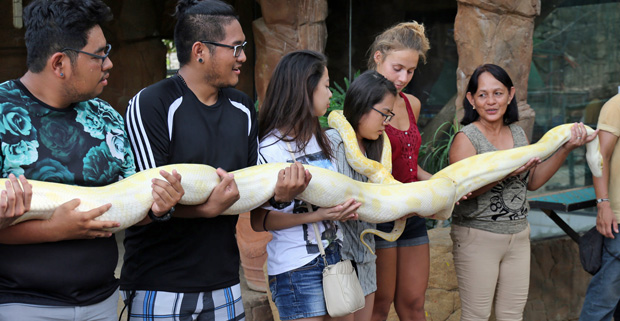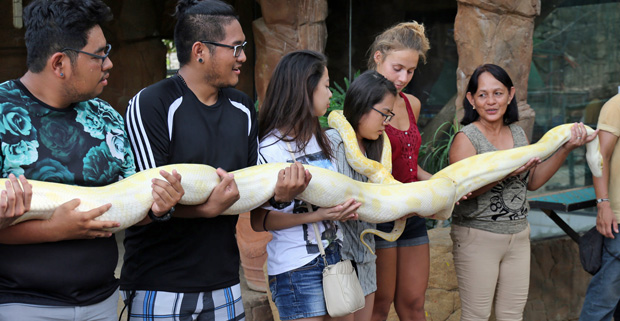 On May 15, seven students and their advisor embarked on Leeward Community College's first-ever study abroad to the Northern Philippines. The two-week program gave students the opportunity to engage in cultural, historical and ecological activities as well as experience the local lifestyle in lowland and highland Northern Philippines (Ilocos, Cordillera and Metro Manila). Student participants included four Leeward students and three University of Hawaiʻi at Mānoa students, two of whom are Leeward grads.
"Our students watched and participated in cultural performances, visited numerous cultural and art museums, explored eco-cultural areas such as caves, terraces, wild parks and centuries-old burial sites. They engaged in traditional industries, met with counterpart youths and established a network with people there," says Raymund Liongson, the program's coordinator.
"The most memorable part of the Philippine trip was everything!" says Robert Mindo, one of the student participants. "I could say that the people I've met made the most impact on this trip. I felt welcomed there and they made my time enjoyable."
The study abroad experience brought important lessons to student participants, some of whom were local-born Filipino who found a new appreciation for their ethnicity and culture. "I'm even trying to learn how to speak tagalog," Mindo says. "I feel so proud to be Filipino!"
For students considering a study abroad, Mindo gives this bit of advice "If you're thinking about going, just go. Don't even think about it. Go and don't back down. You'll love it there."
The Consuelo Foundation and Philippine Airlines generously served as sponsors of the trip to reduce the costs to the students.
Philippines study abroad photos
For more photos, go to Leeward Community College's Flickr album.
—By Kathleen Cabral