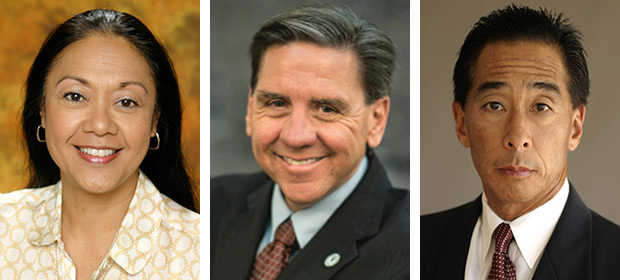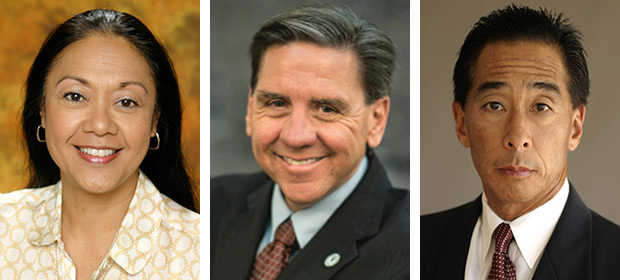 The University of Hawaiʻi–West Oʻahu Chancellor Search Advisory Committee has identified three finalists—Maenette Benham, Larry Buckley and Franklin Kudo—for the position of chancellor and has invited them to participate in a final round of interviews.
The campus community is invited to meet the finalists at a series of open forums on the UH West Oʻahu campus on Thursday, September 8; Monday, September 12 and Thursday, September 15. The forums are being held in the UH West Oʻahu library in the ʻUluʻulu Archive Exhibition Space (located on the first floor, in the rear of the building).
Open forum schedule
Thursday, September 8, 2 p.m.—Franklin Kudo
Monday, September 12, 2 p.m.—Larry Buckley
Thursday, September 15, 2 p.m.—Maenette Benham
The candidates
Maenette Benham
Dean Maenette K.P. Ah Nee-Benham, a kānaka maoli scholar and teacher, is the inaugural dean of Hawaiʻinuiākea School of Hawaiian Knowledge, University of Hawaiʻi at Mānoa. Benham began her K–12 teaching career in 1978 and over her 15-year teaching career she has taught grades K–12 in California, Texas and Hawaiʻi (Kaiser High School and Kamehameha Schools).
Benham biography
Benham CV
Larry Buckley
Larry Buckley has served in a variety of administrative and teaching positions in a higher education career that has spanned more than three decades. He has served in several executive roles, including as president of Cañada College, in the heart of the Silicon Valley, and is currently serving as the vice president for educational services at West Hills College.
Buckley biography
Buckley CV
Franklin Kudo
Franklin Ty Kudo is a professor of accounting at the University of Hawaiʻi–West Oʻahu in Kapolei, Hawaiʻi. He began his career at UH West Oʻahu in 2006 and teaches primarily the intermediate financial accounting series and advanced accounting courses. His research interests are primarily in the areas of finance, management and accounting.