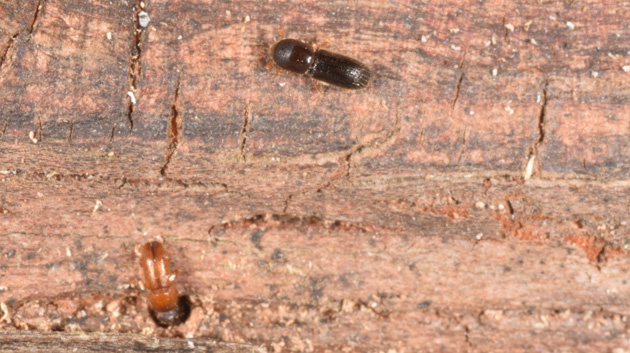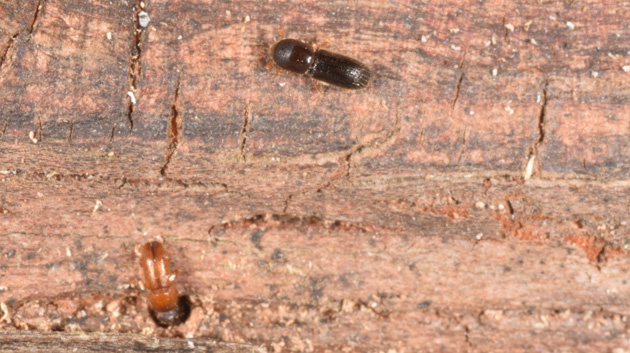 University of Hawaiʻi at Mānoa researchers are playing an important role in the fight against rapid ʻōhiʻa death. Since 2013, this fungal disease has killed hundreds of thousands of ʻōhiʻa trees and affected almost 50,000 acres of ʻōhiʻa forests on Hawaiʻi Island. ʻŌhiʻa are the foundation of the state's watershed and a cultural treasure. UH researchers say the ambrosia beetle, which are only a few millimeters long, may be partly responsible for the spread of Rapid ʻŌhiʻa Death.
"One of the most likely ways is these beetles boring into the wood—they're doing this 24 hours a day," said Curtis Ewing, a junior researcher in the College of Tropical Agriculture and Human Resources' Department of Plant and Environmental Protection Sciences. "They go in headfirst they chew in the wood, create boring dust, and then 24 hours a day they're backing out and push this stuff out of the tree."
According to recent findings, as much as 75 percent of the beetles' boring dust from infected ʻōhiʻa contains spores that carry the disease.
"So you can have this boring dust or frass coming out of the tree 24/7, gets caught in the wind, gets blown across the forest, lands on the trees," said Ewing. "If there's a wound or some other entry point, it᾿s possible that it percolates down into the tree as well."
Also, as many 10 percent of the ambrosia beetles tested were positive for the disease. UH is part of a multi-government agency working group fighting Rapid ʻŌhiʻa Death. By learning more about the disease, it's hoped that a solution can be found to reduce its spread, or at least to mitigate it's effects.
"One of the questions we want to know is, over time, how much frass is produced, when do they emerge, is there any synchronicity to it," said Ewing.
If, as hypothesized, beetles really are spreading the disease, it might be controlled by managing the beetle habitat in dead and dying trees. This may be the best hope of stopping the spread of the disease and protecting ʻōhiʻa forests statewide.
For more information, go to the Rapid ʻŌhiʻa Death website.
Read more about Rapid
ʻŌhiʻa

Death in UH News