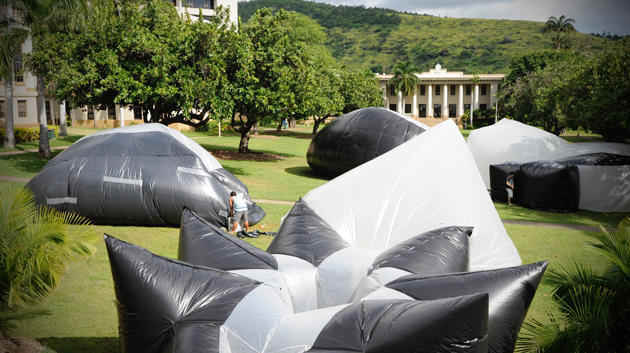 Giant inflatable structures, some two stories tall, took over part of the University of Hawaiʻi at Mānoa campus at the end of the 2016 fall semester. It is the fourth straight year the inflatable, or pneumatic, structures popped up in the lawn between the School of Architecture and Hawaiʻi Hall.
The pneumatic structures were designed and built by 43 students taking Architecture 235, a second-year design studio course. The structures were made of sheets of plastic the students seamed together with soldering irons and clothing irons. Everyday household standing fans inflated the structures.
"Typically, in design school and architecture school, you don't get to build full size projects," said UH Mānoa architecture professor Lance Walters, who teaches the course. "This project involves designing through representation and then constructing them. This gives them a chance to learn more about the spaces they are actually designing."
"It's a different experience to actually see something built," said UH Mānoa architecture student Keola Annino, who built on one of the seven structures, which were one to two stories high. "We're only in our second year, first semester of our second year, so having the opportunity to build something is pretty awesome."
The assignment was to create pop-up galleries to display projects from earlier in the semester. The projects on display were of schematic designs, the first phase of basic design. The students used technical drawings, computer renderings and collages to rethink and conceptualize lifeguard towers.
Take a tour of the pneumatic structures
Photos
No photos available right now.
Please verify your settings, clear your RSS cache on the Slickr Flickr Admin page and check your Flickr feed
View more photos on the University of Hawaiʻi Flickr site.