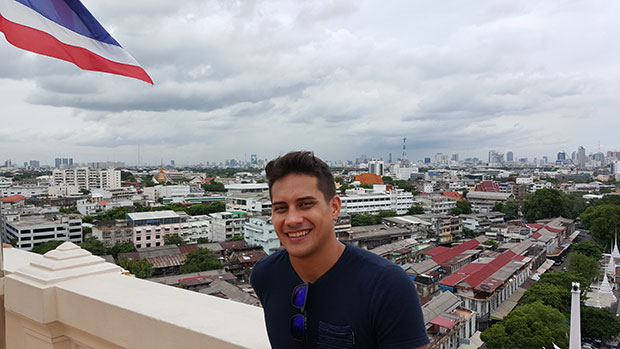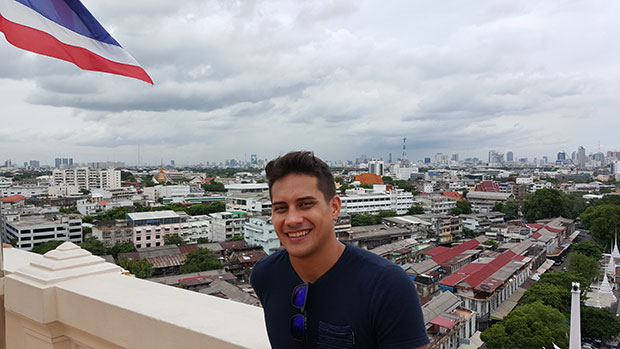 University of Hawaiʻi at Mānoa alumnus Sakaria "Sai" Auelua-Toomey has been named a 2017 Luce Scholar. This marks the second time in two consecutive years that UH Mānoa has been successful in fostering a Luce Scholar. The Luce Scholars Program identifies promising young leaders for a year-long experience of working in Asia. Seventy-five top universities across the United States nominate up to three candidates annually.
Auelua-Toomey is one of approximately 175 nominees who were considered from across the United States, with about 45 making the final interviews in San Francisco, New York and Washington, D.C. About 15–20 Luce Scholars are selected from that pool of finalists annually.
His path to this prestigious fellowship was not traditional. As Auelua-Toomey tells it, he barely finished high school and had no interest in going to college. He spent two years working at a local grocery store and only started to attend Honolulu Community College because he wanted to enter the police program.
As that program was full, he instead tried courses in psychology and speech while waiting. He credits an early Honolulu CC mentor, Associate Professor Jennifer Higa-King, as "seeing something in me that I didn't see in myself." He earned a 4.0 GPA that year, but did not get accepted into the police program. Instead, he detoured through the Air Force for a year, then used the G.I. Bill to continue his education at UH Mānoa, where he double majored in communicology and psychology, graduating in 2016.
For his ambitious honors thesis in psychology, Auelua-Toomey collaborated with the Interactive Autism Network at the Johns Hopkins University School of Medicine to investigate individuals with autism spectrum disorder perception, which led to his first publication in the Mānoa Horizons undergraduate journal.
Undergraduate HIV research in Thailand
He was drawn to the Luce Scholars program because of his interest in intercultural communication, which was developed through different research opportunities as an undergraduate. He traveled to Thailand through the Minority Health International Research Training Program with the John A. Burns School of Medicine. Supervised by James Campbell and Charlene Tomas at the Thai Red Cross in Thailand, his project focused on reducing HIV infection rates in transgender women populations through the use of health questionnaires. He also credits Associate Professor Kristin Pauker from the UH Mānoa Department of Psychology for supervising his work as a research assistant in her Intergroup Social Perceptions Lab.
Since graduation, Auelua-Toomey continues to pursue research interests in psychology and communications, as well as international and intercultural communication. He participated in the Language and Information Internship Program at Stanford University, where—under the mentorship of Thomas Icard—he examined how moral judgment affected decision-making.
Continuing leadership and scholarship
Currently, Auelua-Toomey is a seminar leader at the Daniel K. Inouye Asia-Pacific Center for Security Studies, a U.S. Department of Defense institute on Oʻahu that addresses regional and global security issues with participation of representatives from the United States and more than 40 Asia-Pacific nations. He also works with children with autism through the Behavior Change Institute.
Following and building on his experience in the Luce Scholars Program, he plans to pursue a doctoral degree in psychology and cognitive sciences, with a focus on international communication. He hopes to increase the representation of Pacific Islanders in higher education, saying, "I couldn't see myself in academia because I had no role models." The Luce Scholars Program is a big step toward this goal.
In June, Auelua-Toomey will travel to New York and San Francisco, spending a week of training in each before being placed in Asia. He hopes his year abroad will give him an opportunity to research how collectivist societies have different frames of perception, communication and decision-making in comparison to American culture.