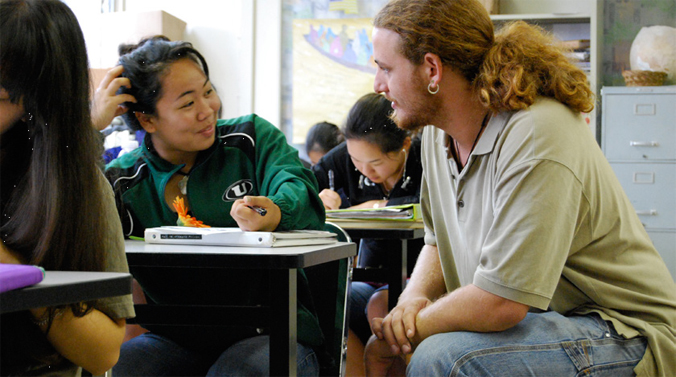 Becoming an education hero, a teacher, is now more attainable, thanks to the generous support of the State Legislature and the Hawaiʻi Department of Education (HIDOE). The University of Hawaiʻi at Mānoa College of Education will award up to $600,000 in scholarship stipends to recruit new teacher candidates, who already serve in educational capacities in our state.
The scholarship stipends are available to Hawaiʻi Department of Education employees who are emergency hires, substitute teachers, or educational assistants for the college's statewide post-baccalaureate certificate in secondary education, which begins spring 2018.
The initiative called, Grow Our Own is designed to address teacher shortage areas in Hawaiian language, world languages, English, mathematics and science.
"This partnership between the College of Education and HIDOE is the first of its kind, targeting educators who have an undergraduate degree, but no teaching license, and who demonstrate content knowledge in a HIDOE federal shortage area," said Dean Donald B. Young. "It is the first time state scholarships have been available to support teacher preparation. We greatly appreciate the leadership of Senator Michele Kidani in helping to make this opportunity a reality."
"After several years of review of teacher shortage and retention issues, I partnered with the UH College of Education and HIDOE to find a way to recruit substitute teachers with bachelor's degrees to become certified teachers," said Senator Kidani. "This cohort pilot program is really a start. If it is successful, we should also recruit others with bachelor degrees such as HIDOE emergency hires and others whose degrees may be under utilized. If they already live and work in our community and want to become teachers, we should focus on growing our own and provide the best possible educators for our keiki."​
"The Hawaiʻi State Department of Education has numerous partnerships aimed at supporting staff success and recruitment, both of which are goals and objectives from the Department's Strategic Plan," said HIDOE Assistant Superintendent Barbara Krieg. "These include programs to Grow our Own teachers, which will help increase the pool of qualified applicants, improve teacher retention and ultimately achieve equity in access to excellent educators for all students."
Application deadline is October 1
Students of the Grow Our Own initiative will begin in January 2018 and graduate in May 2019 with an opportunity to gain teacher licensure from the Hawaiʻi Teacher Standards Board upon completion.
The program includes online courses as well as field experience and teaching residency in a HIDOE or public charter school.
Graduates are required to commit to three years of full-time teaching (grades 6–12) in their designated shortage area.
The application deadline is October 1, 2017.
For more information, go to the Grow Our Own website, or contact the College of Education's Office of Student Academic Services at osas@hawaii.edu or for neighbor island inquiries, osassw@hawaii.edu.
—By Jennifer Parks