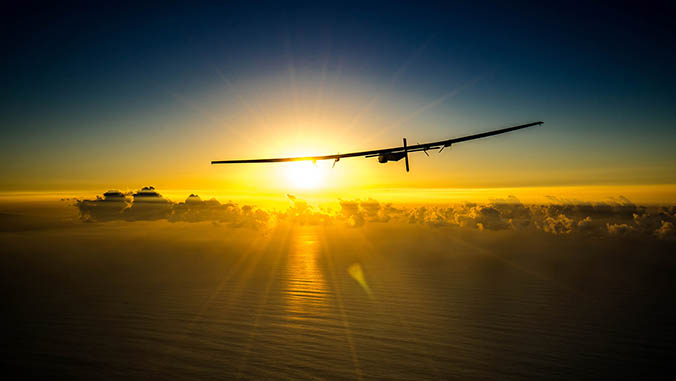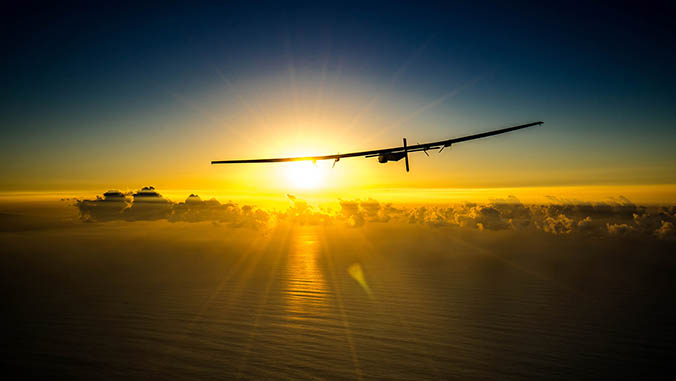 The Hawaiʻi International Film Festival will premiere of Point of No Return, a feature-length documentary that takes viewers behind the headlines of one of the great scientific adventure stories of our century—Solar Impulse 2 and the first solar powered flight around the world.
The film will be screened November 5, 5:15 p.m. and November 9, 2:45 p.m. at the Regal Dole Cannery Stadium 18 Theatre. Tickets are available online. Pilot André Borschberg, the filmmakers, government and environmental leaders will appear at the November 5 screening.
The University of Hawaiʻi hosted the Solar Impulse 2 and its crew during the eight month pit stop following the flight from Japan to Hawaiʻi in July 2015, the longest nonstop solo flight in history.
The journey from Japan to Hawaiʻi, a milestone for aviation and clean energy, took five and nights and 5,545 miles to complete. Technical difficulties would keep the Solar Impulse aircraft grounded until vital improvements could be made.
At UH's hangar in Kalaeloa Airport, the crew's pit stop drew enthusiastic crowds from the university and local public, including Gov. David Ige—just as Hawaiʻi embarked on a clean energy journey of its own. Around the same time, the governor signed legislation directing Hawaiʻi's utilities to generate 100 percent of their electricity from renewable energy resources by 2045.
Milestones like these have not been lost on filmmakers, Noel Dockstader and Quinn Kanaly, who followed the pilots and crew for ten months—including several months on Oʻahu during some of the most make-or-break moments in the flight's journey.
"I want this story of ingenuity and grit to give people hope against the huge environmental challenges we're facing today," says Kanaly. "And to premiere in Hawaiʻi where it all came to fruition is very special to us. It's at the heart of this story."
"The spirit of this plane has a natural connection to Hawaiʻi and the people who live here in the islands," adds Dockstader. "Existing in harmony with nature, not at the cost of it."
Keep up with the latest on Point of No Return on the documentary's Facebook and Instagram.
2015 Honolulu Community College session with the Solar Impulse 2