President's Award for Excellence in Building
and Grounds Maintenance
Maintenance Award Winner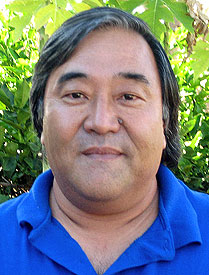 2008
Francis Hirota
Leeward Janitorial Supervisor Francis "Aki" Hirota has contributed to the janitorial section of operations and maintenance most notably by maintaining a safe and healthy working environment and reducing employee absences. By carefully monitoring employee reaction, Hirota bought new supplies to reduce adverse health reactions in his colleagues.
Hirota is also responsible for improving staff morale with his unceasing gratitude and encouragement. "He appreciates us and encourages us to come back, do it all over again, even though we may be invisible workers on campus," a colleague noted.
"His message to us is that our work in keeping the campus clean, sanitary and healthy is very visible to everybody, so do not underestimate the work we do day after day."
The President's Award for Excellence in Building and Grounds Maintenance honors UH employees who exhibit dedication and sustained superior performance in a maintenance, landscaping, custodial, shop or trucking position.
2017 Award for Excellence in Building and Grounds Maintenance information and form (PDF)
Current Winners
Go to UH News for stories on the latest honorees.
2004–2015 Honorees