Hung Wo and Elizabeth Lau Ching Foundation Award for Faculty Service to the Community
Service Award Winner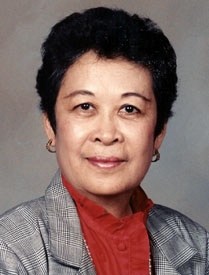 Belinda Aquino
UH Manoa
As a professor and director of the Center for Philippine Studies, Belinda Aquino is recognized for a continuing series of invaluable contributions to the Filipino community.
Aquino has been a source of information, advice, opinion and analysis on community issues, including immigration, human rights, labor and employment, higher education, Philippine-American relations, women and minorities, Mindanao, and Philippine history, culture and society to several diverse groups in the community. She has assisted victims of perennial Philippine disasters, such as typhoons, earthquakes, floods, volcanic eruptions and other calamities.
Because of her expertise as a social scientist and Philippine specialist, the Philippine Consulate has often requested Aquino to speak in forums, programs and gatherings.
The Hung Wo and Elizabeth Lau Ching Foundation Award has honored faculty members for significant contributions that strengthen ties between the University of Hawai'i and the community.
Select a recipient for more about that individual.
2008
2007

Roy Kamida
Leeward
2006
2005
2004
2003
2002