Hung Wo and Elizabeth Lau Ching Foundation Award for Faculty Service to the Community
Service Award Winner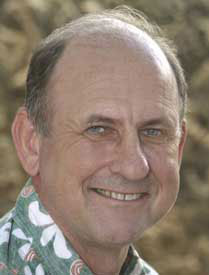 David Bangert
Manoa
David Bangert is an associate professor in the Department of Management and Industrial Relations in the College of Business Administration (CBA) at UH Manoa. He has provided exceptional service to Aloha United Way (AUW), Wai'anae Coast Coalition, Campbell Estate and a number of other organizations and community groups. Bangert has also advised the governor on such disparate subjects as the effective functioning of state government and telemedicine.
Bangert volunteered in a variety of capacities with AUW since joining CBA 13 years ago. As a doctoral candidate at Harvard University, he wrote a dissertation that resulted in the adoption of a decision-making model. He has served on the UH Program on Conflict Resolution Steering Committee since 1997. His skills as negotiator and facilitator were honed during a sabbatical at the Center for Creative Leadership in North Carolina.
Since 1998 Bangert has served as a judge for the state Chamber of Commerce Award for Excellence. He also served on a subcommittee for the Hawai'i Performance Partnership Board to advise the governor on improving the functioning of the state government.
Bangert's goodwill benefits the university as well'he has been instrumental win connecting the university closer with its alumni.
The Hung Wo and Elizabeth Lau Ching Foundation Award has honored faculty members for significant contributions that strengthen ties between the University of Hawai'i and the community.
Select a recipient for more about that individual.
2008
2007

Roy Kamida
Leeward
2006
2005
2004
2003
2002