Hung Wo and Elizabeth Lau Ching Foundation Award for Faculty Service to the Community
Service Award Winner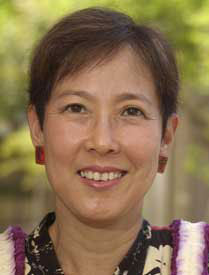 Donna R. Ching
Manoa
Donna R. Ching is an extension specialist in agricultural leadership in the Department of Family and Consumer Sciences of the College of Tropical Agriculture and Human Resources. Over the past decade, she has established herself as one of Hawai'i's premier advocates and practitioners of processes designed to make groups more effective in their planning and other deliberations. Her work is based on a simple premise—groups (temporary committees, governing boards, teams and the like) are the primary unit in which most of the key decisions in organizations are made.
Ching has provided services to 58 different agencies in Hawai'i, from youth organizations to state agencies to community-based programs. She has served on eight community boards.
Her training and facilitation activities have a remarkable impact particularly in schools and the non-profit sector in Hawai'i. Ching's current work with Farrington High School's faculty and staff is representative. Initially asked in 1998 to train a cross-section of Farrington staff and students in collaborative leadership, she began to receive calls from legislators and school administrators asking her to help other schools. As a result, she ran a teacher institute at the Hawai'i Convention Center that attracted 170 teachers this year.
The Hung Wo and Elizabeth Lau Ching Foundation Award has honored faculty members for significant contributions that strengthen ties between the University of Hawai'i and the community.
Select a recipient for more about that individual.
2008
2007

Roy Kamida
Leeward
2006
2005
2004
2003
2002