Hung Wo and Elizabeth Lau Ching Foundation Award for Faculty Service to the Community
Service Award Winner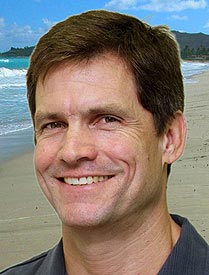 Charles H. Fletcher
UH Manoa
A professor of geology and geophysics in the School of Ocean and Earth Science and Technology at UH Manoa, Charles H. Fletcher is honored for his devotion and team-building efforts in establishing new guidelines and policy for the the protection of Hawai'i's shorelines and beaches.
Over the last 15 years, Fletcher has worked closely with the Hawai'i Department of Land and Natural Resources and various county planning departments to nourish Hawai'i's beaches. He wrote the Hawai'i Coastal Erosion Mangement Plan, the state's only comprehensive plan, to address coastal erosion problems.
In addition to his outstanding community service, Fletcher created an internationally–recognized research program that has attracted more than $5 million in extramural grants to the university.
The Hung Wo and Elizabeth Lau Ching Foundation Award has honored faculty members for significant contributions that strengthen ties between the University of Hawai'i and the community.
Select a recipient for more about that individual.
2008
2007

Roy Kamida
Leeward
2006
2005
2004
2003
2002