Hung Wo and Elizabeth Lau Ching Foundation Award for Faculty Service to the Community
Service Award Winner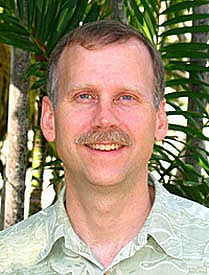 Byron Gangnes
UH Manoa
Co-recipients Carl Bonham and Byron Gangnes, assistant professors in the Department of Economics, are credited with assisting in the establishment of the UH Economic Research Organization.
UHERO provides a forum for experts and interested citizens on the economic performance of Hawai'i and the Asia Pacific region. It provides critical proprietary and non-proprietary economic forecasts and research to private and public clients.
Recently, Bonham and Gangnes updated the 2000 UH economic impact study to bolster the university's centennial fundraising campaign. Their forecasts have become a standard feature at the annual meeting of the Hawai'i Economic Association. They are also regularly asked to testify before legislative committees on economic prospects for Hawai'i.
The Hung Wo and Elizabeth Lau Ching Foundation Award has honored faculty members for significant contributions that strengthen ties between the University of Hawai'i and the community.
Select a recipient for more about that individual.
2008
2007

Roy Kamida
Leeward
2006
2005
2004
2003
2002