Hung Wo and Elizabeth Lau Ching Foundation Award for Faculty Service to the Community
Service Award Winner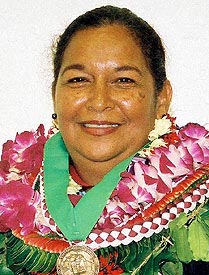 Donnalyn Kalei
Hawai'i Community College
As instructor/coordinator of the Administration of Justice Program at Hawai'i Community College, Donnalyn Kalei is honored for using her talents to enrich the Big Island community.
Kalei devoted three uncompensated years planning the curriculum and development for the Substance Abuse Counseling Program, which is expected to be the first associate in science degree for substance abuse counseling in the UH system.
As a grant writer, Kalei received $796,000 in funding for the Youth Business Center in Kea'au on the Big Island. She continues to collaborate with various community organizations that promote the prevention of substance abuse and foster economic stimulation.
The Hung Wo and Elizabeth Lau Ching Foundation Award has honored faculty members for significant contributions that strengthen ties between the University of Hawai'i and the community.
Select a recipient for more about that individual.
2008
2007

Roy Kamida
Leeward
2006
2005
2004
2003
2002