Hung Wo and Elizabeth Lau Ching Foundation Award for Faculty Service to the Community
Service Award Winner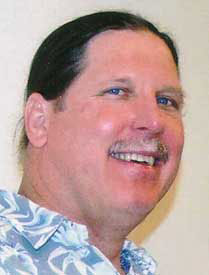 David A. Krupp
Windward Community College
David A. Krupp is an associate professor of biological science at Windward Community College and an affiliate faculty member at the Hawai'i Institute of Marine Biology. He is also an advisor to Windward Community College's Phi Theta Kappa chapter.
Krupp brings his strong academic credentials and high level of commitment and enthusiasm to many local environmental-related organizations including the Kaneohe Bay Regional Council, Hawai'i Reef Check and the Windward Ahupua'a Alliance. For two summers, he led community group tours to the waters off Coconut Island to observe coral activity, thus raising public awareness on the need to protect Hawai'i's reefs. Krupp also speaks before numerous community groups on a diverse range of scientific and environmental topics. As a result of Krupp's activities, the community looks to Windward as the primary focal point for support and advice on environmental issues and projects.
The Hung Wo and Elizabeth Lau Ching Foundation Award has honored faculty members for significant contributions that strengthen ties between the University of Hawai'i and the community.
Select a recipient for more about that individual.
2008
2007

Roy Kamida
Leeward
2006
2005
2004
2003
2002