Hung Wo and Elizabeth Lau Ching Foundation Award for Faculty Service to the Community
Service Award Winner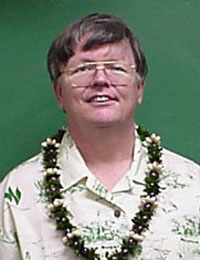 William Puette
UH West O'ahu
Director of the Center for Labor Education and Research at UH West O'ahu, William Puette has provided his expertise in history, law and policy issues to various local labor organizations, such as the Hawai'i Civil Rights Commission, Labor Community Services Liaison Program of Hawai'i and Hawai'i Injured Workers Alliance.
Puette also volunteers his time to speak on labor issues and provide technical expertise at various public presentations.
As director of CLEAR for the past 15 years, he has developed many labor courses and programs and is working to establish a labor studies degree program.
The Hung Wo and Elizabeth Lau Ching Foundation Award has honored faculty members for significant contributions that strengthen ties between the University of Hawai'i and the community.
Select a recipient for more about that individual.
2008
2007

Roy Kamida
Leeward
2006
2005
2004
2003
2002