Hung Wo and Elizabeth Lau Ching Foundation Award for Faculty Service to the Community
Service Award Winner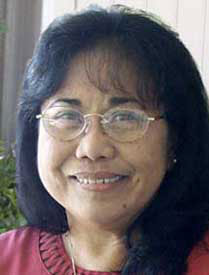 Nelda Quensell
Kapi'olani Community College
Nelda Quensell, a botany instructor at Kapi'olani Community College for 25 years, has been an active facilitator and participant in the Service Learning Initiatives at the college. Service learning options are offered to students through botany and biology classes. Activities and field trips are performed outside of class times, often on the weekends, and without release time or compensation.
Quensell is the natural science leader for the Adopt an Ahupua'a pathway and was instrumental in the development of the project. She educates students on ahupua'a lifestyles and brings them to community locations where they volunteer to maintain the natural environment and conserve native species important to the Hawaiian culture.
Students do hands-on community service, working with organizations such as Harold L. Lyon Arboretum, Foster Botanical Garden, Ho'omaluhia Botanical Garden and area schools. Aside from cleaning, planting and maintenance, students get a taste of Hawaiian culture and learn the historical relevance of the area and the plants they are working with. The relationship between plants, humans and society is learned encouraging better understanding and appreciation of the complete interdependence of all living things. Quensell's students and the larger community benefit from this commitment of time, knowledge and labor.
Quensell also started and maintains the native gardens at the Kapi'olani campus, volunteered hours at the Lyon Arboretum's micropropagation laboratory and helped restore taro patches at Mt. Ka'ala.
The Hung Wo and Elizabeth Lau Ching Foundation Award has honored faculty members for significant contributions that strengthen ties between the University of Hawai'i and the community.
Select a recipient for more about that individual.
2008
2007

Roy Kamida
Leeward
2006
2005
2004
2003
2002