Hung Wo and Elizabeth Lau Ching Foundation Award for Faculty Service to the Community
Service Award Winner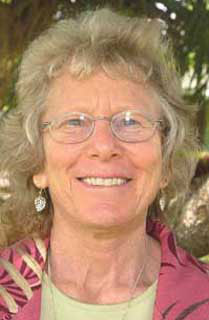 Lee Stein
Maui Community College
Lee Stein, an instructor of human services at Maui Community College, is a valuable asset in the community—influencing policy and inspiring program services related to domestic violence, substance abuse and women incarcerated for drug related crimes. Through her endless list of volunteer work Stein has significantly strengthened the community's ties to the University of Hawai'i.
Working for more than 20 years in human services, she has been involved with the Maui Economic Opportunity Head Start program where she provided outstanding social service training to facilitators. Stein is recognized as an advocate for domestic violence prevention and is well known in the social services community as the founder of Alternatives to Violence, a program created to serve both victims and perpetrators of domestic violence. She also volunteered countless hours to Women Helping Women, an emergency shelter and program for victims of domestic violence, where she provided training for volunteers and new staff.
Stein's commitment to social service programs and her level of expertise and professionalism to human services programs all demonstrate her dedication to the Maui community.
The Hung Wo and Elizabeth Lau Ching Foundation Award has honored faculty members for significant contributions that strengthen ties between the University of Hawai'i and the community.
Select a recipient for more about that individual.
2008
2007

Roy Kamida
Leeward
2006
2005
2004
2003
2002