Robert W. Clopton Award for Outstanding Service to the Community
Clopton Award Winner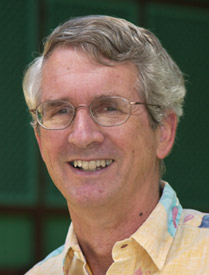 2004
Edward Shultz
Edward (Ned) Shultz is a professor of history and director of the Center for Korean Studies. Under his six-year leadership, the center has become a vibrant and dynamic academic center. With his affable personality, honesty and hard work, Shultz has transformed the Center for Korean Studies into one of the most academically active research centers within the UH System.
Koreans immigrated to Hawai'i in two waves—the first group came between 1903 and 1924, and their descendants are mostly third and fourth generation Korean Americans, while the second group migrated to Hawai'i after 1965 and are still struggling to plant their roots in Hawai'i. A large gap in terms of culture and language exists between them. Largely through the efforts of Shultz, these culturally disparate groups are now holding meetings together for the common cause of promoting Korean-awareness in Hawai'i. The center has become a favored venue for such dialogues.
Shultz also played an important role in the planning and execution of events associated with the 100th anniversary of Korean immigration to the United States. As the academic chair and secretary of the central planning committee, he was responsible for coordinating education and art related activities throughout Hawai'i.
A colleague observed, "Ned Shultz has played a leading role in bringing 'gown and town' together, especially with the Korean community in Hawai'i. Seldom have I seen a person who is as dedicated to the cause of community service and well-being."
The Robert W. Clopton Award for Outstanding Service to the Community recognizes a UH Manoa faculty member for playing a socially significant role by applying intellectual leadership and academic expertise to the improvement of the community. The award was established as a memorial to longtime Manoa College of Education Professor Robert Clopton and first awarded in 1977.
Select a recipient to learn more about that individual.

Jonathan Osorio
2010

Dennis Carroll
2009

Jane Kadohiro
2008

Sharon Miyashiro
2006

Edward
Shultz
2004

Thomas
Klobe
2003

Michael Hamnett
2002