Robert W. Clopton Award for Outstanding Service to the Community
Clopton Award Winner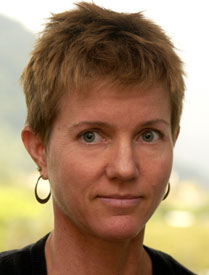 2005
Susan Hippensteele
Susan Hippensteele is an associate professor in the women's studies program at UH Manoa. Inspired by the philosophy of women's studies as a vehicle for social justice, Hippensteele gives her time generously to a number of local organizations to bring needed legal services to disadvantaged women and families.
Hippensteele serves as an excellent role model for her students. Her legal work on behalf of women facing family violence or workplace discrimination illustrates the more abstract concepts students are learning about in their classes.
A colleague observed, "Her work embodies the connections between theory and practice, between school and community, which the women's studies program emphasizes."
The Robert W. Clopton Award for Outstanding Service to the Community recognizes a UH Manoa faculty member for playing a socially significant role by applying intellectual leadership and academic expertise to the improvement of the community. The award was established as a memorial to longtime Manoa College of Education Professor Robert Clopton and first awarded in 1977.
Select a recipient to learn more about that individual.

Jonathan Osorio
2010

Dennis Carroll
2009

Jane Kadohiro
2008

Sharon Miyashiro
2006

Edward
Shultz
2004

Thomas
Klobe
2003

Michael Hamnett
2002