Robert W. Clopton Award for Outstanding Service to the Community
Clopton Award Winner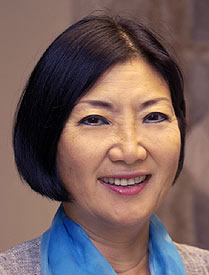 2006
Sharon Miyashiro
Sharon Miyashiro is a specialist in the urban and regional planning department at Manoa. Since being appointed faculty specialist in 2001, she has undertaken a variety of public issues that have resulted in positive changes for the community.
Her projects include developing and influencing policies and legislation and working with members of the community on issues that impact their neighborhoods. Miyashiro's efforts include organizing policies for the Hawai'i Energy Policy Forum, coordinating a partnership between the community and university to develop a sustainability plan, facilitating concerns about custody and divorce cases in family court and assisting in developing a plan for the Sheridan/Ala Moana community.
She also volunteers as a mediator at the Mediation Center of the Pacific.
The Robert W. Clopton Award for Outstanding Service to the Community recognizes a UH Manoa faculty member for playing a socially significant role by applying intellectual leadership and academic expertise to the improvement of the community. The award was established as a memorial to longtime Manoa College of Education Professor Robert Clopton and first awarded in 1977.
Select a recipient to learn more about that individual.

Jonathan Osorio
2010

Dennis Carroll
2009

Jane Kadohiro
2008

Sharon Miyashiro
2006

Edward
Shultz
2004

Thomas
Klobe
2003

Michael Hamnett
2002