Robert W. Clopton Award for Outstanding Service to the Community
Clopton Award Winner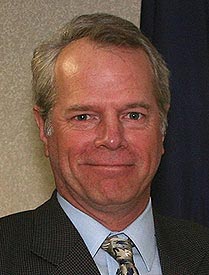 2007
Peter G. Nicholson
Peter Nicholson is an associate professor in Manoa's Department of Civil and Environmental Engineering. In his 16 years with the university, Nicholson used his knowledge in geotechnical engineering to give back to the community and his profession.
Nicholson provides technical expertise to the state with dam inspections and has responded to the Sacred Falls rockfall and Koloko Dam failure. Nicholson also formed a reconnaissance team to assess damages from the Oct. 15 Big Island earthquakes.
Following Hurricane Katrina, he inspected the hurricane protection system for causes of failures and presented the first report on the levee failure to the U.S. Senate. For his work Nicholson was honored with the Outstanding Civilian Service Medal, the highest Army honorary decoration that can be awarded to a civilian.
The Robert W. Clopton Award for Outstanding Service to the Community recognizes a UH Manoa faculty member for playing a socially significant role by applying intellectual leadership and academic expertise to the improvement of the community. The award was established as a memorial to longtime Manoa College of Education Professor Robert Clopton and first awarded in 1977.
Select a recipient to learn more about that individual.

Jonathan Osorio
2010

Dennis Carroll
2009

Jane Kadohiro
2008

Sharon Miyashiro
2006

Edward
Shultz
2004

Thomas
Klobe
2003

Michael Hamnett
2002