Robert W. Clopton Award for Outstanding Service to the Community
Clopton Award Winner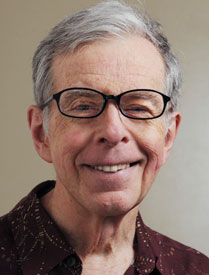 2009
Dennis Carroll
Dennis Carroll is a professor and chair of Manoa's Department of Theatre and Dance. He has devoted 40 years to the support of theater for and about the people of Hawai'i.
As a new faculty member, Carroll encouraged and worked with students to write plays and mount productions. These efforts coalesced into Kumu Kahua Theatre, a 100-seat playhouse in downtown Honolulu designed to stage new and innovative dramas and provide a venue for local actors to perform. The mission of the Kumu Kahua Theatre is to create a Hawai'i theater by nurturing plays written about Hawai'i by its residents.
As a founder, artistic director, board member, playwright and director, Carroll's contributions in creating and sustaining this important cultural institution have made a significant impact in the community and on the artistic life of Hawai'i.
The Robert W. Clopton Award for Outstanding Service to the Community recognizes a UH Manoa faculty member for playing a socially significant role by applying intellectual leadership and academic expertise to the improvement of the community. The award was established as a memorial to longtime Manoa College of Education Professor Robert Clopton and first awarded in 1977.
Select a recipient to learn more about that individual.

Jonathan Osorio
2010

Dennis Carroll
2009

Jane Kadohiro
2008

Sharon Miyashiro
2006

Edward
Shultz
2004

Thomas
Klobe
2003

Michael Hamnett
2002