Robert W. Clopton Award for Outstanding Service to the Community
Clopton Award Winner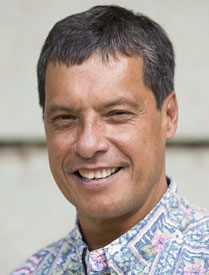 2010
Jonathan Osorio
Jonathan Osorio, a professor in Manoa's Hawai'inuiakea School of Hawaiian Knowledge, has devoted his life to becoming an expert on Hawai'i politics and history, music and identity, and indigenous civil rights and social justice. His community service is imbued with the gracious spirit of 'ohana that values children, elders and kupuna and allies and friends.
"Jon is one of very few professors I know who regards community service with the same passion and commitment that he gives to academic teaching and research," says a colleague. "His writing, teaching, speeches, advocacies on behalf of his own people and church, as well as his music of loss, love and hope have touched the minds and hearts of thousands of people across the region we call Oceania."
"Professor Osorio is praised for his inspirational work and contributions as an insightful, caring and intellectual leader," says Manoa Chancellor Virginia S. Hinshaw. "In every indigenous community, there are those who are called to the role of moving their communities through hardship to transformation, and he has responded to the call in such a gracious manner. He has truly made a deep impact in the lives of so many people, as well as on numerous communities across the region."
The Robert W. Clopton Award for Outstanding Service to the Community recognizes a UH Manoa faculty member for playing a socially significant role by applying intellectual leadership and academic expertise to the improvement of the community. The award was established as a memorial to longtime Manoa College of Education Professor Robert Clopton and first awarded in 1977.
Select a recipient to learn more about that individual.

Jonathan Osorio
2010

Dennis Carroll
2009

Jane Kadohiro
2008

Sharon Miyashiro
2006

Edward
Shultz
2004

Thomas
Klobe
2003

Michael Hamnett
2002