Frances Davis Award for Excellence in Undergraduate Teaching
Davis Award Winner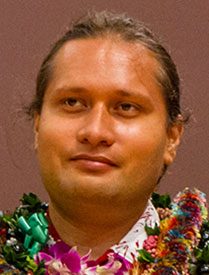 Joshua Irvine
Manoa
Joshua Irvine is a graduate student in the Department of Civil and Environmental Engineering at UH Manoa.
As a teaching assistant, Irvine strives to enhance the engineering program by developing a positive educational environment for his students, preparing them for academic positions, as well as for careers in engineering and related industries.
He incorporates social media, technology and Hawaiian values into his learning activities. His supervisor, Associate Professor Albert Kim, put it best when he said, "In my entire academic life, I never had a TA like Mr. Irvine, who respects, cares and inspires engineering students—showing their future roles as leading engineers for Hawai'i."
The Frances Davis Award for Excellence in Undergraduate Teaching recognizes dedication and demonstrated excellence as teachers of undergraduate students. It was established as a memorial to the late Frances Davis, who taught mathematics at Leeward Community College and UH Manoa for 19 years.
Current Winners
Go to UH News for stories on the latest honorees.
2002 – 2015 Honorees
2012–2015 | 2007–2011 | 2002–2006.
2015
2014
2013
2012