Frances Davis Award for Excellence in Undergraduate Teaching
Davis Award Winner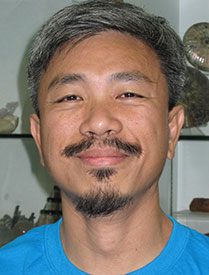 Roger Kwok
Leeward
Roger Kwok, assistant professor of chemistry and physical sciences in the Department of Mathematics and Science at Leeward Community College.
Kwok was born in Hong Kong but moved to Hawai'i at the age of 9. He received both his BS ad MS in Physics from UH Manoa.
Kwok takes pride in making science fun and engaging for his students by using interactive activities and colorful demonstrations in class. From his personal collection of fossils and minerals, Kwok developed a Natural History Exhibit in the science study lab that is available to the community. He also uses his collection while making scientific presentations at public elementary and high schools.
Kwok is an associate director of the Hawai'i Space Grant Consortium.
The Frances Davis Award for Excellence in Undergraduate Teaching recognizes dedication and demonstrated excellence as teachers of undergraduate students. It was established as a memorial to the late Frances Davis, who taught mathematics at Leeward Community College and UH Manoa for 19 years.
Current Winners
Go to UH News for stories on the latest honorees.
2002 – 2015 Honorees
2012–2015 | 2007–2011 | 2002–2006.
2015
2014
2013
2012