Frances Davis Award for Excellence in Undergraduate Teaching
Davis Award Winner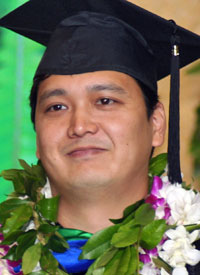 Jonathan Awaya
Hilo
Jonathan Awaya is an assistant biology professor at the University of Hawai'i at Hilo. He is praised for his commitment to helping students intent on being admitted to medical school.
Awaya is recognized for his efforts to encourage students to pursue independent research projects to expose them to the rigorous academic standards required to succeed in graduate level programs. He also maintains regular contact with faculty at the John A. Burns School of Medicine as advisor to the Aspiring Doctors of Hilo student club in an effort to create opportunities for Hilo students.
Awaya's enthusiasm motivates his students to explore ways to make the most of their educational experiences.
The Frances Davis Award for Excellence in Undergraduate Teaching recognizes dedication and demonstrated excellence as teachers of undergraduate students. It was established as a memorial to the late Frances Davis, who taught mathematics at Leeward Community College and UH Manoa for 19 years.
Select a recipient for more about that individual or view winners from 2002-2006.
2011
2010
2009
2008
2007
Past winners from 2002-2006.