Frances Davis Award for Excellence in Undergraduate Teaching
Davis Award Winner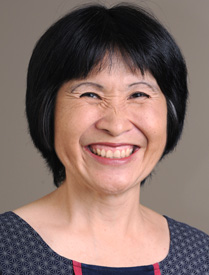 Diane Caulfield
Honolulu
Diane Caulfield is a professor and cooperative education coordinator at Honolulu Community College. She has demonstrated the highest ethical standards and dedication to teaching as well as excellence in the design of lower division undergraduate courses.
Caulfield has continued to modify and improve human development courses to facilitate student learning.
She has been commended as a wonderful teacher who takes the time to talk with students, answer their questions and discuss future goals. Her students appreciate her patience, understanding, encouragement and professional expertise. Caulfield is an inspiration to students and makes them feel that they can succeed.
The Frances Davis Award for Excellence in Undergraduate Teaching recognizes dedication and demonstrated excellence as teachers of undergraduate students. It was established as a memorial to the late Frances Davis, who taught mathematics at Leeward Community College and UH Manoa for 19 years.
Select a recipient for more about that individual or view winners from 2002-2006.
2011
2010
2009
2008
2007
Past winners from 2002-2006.