Frances Davis Award for Excellence in Undergraduate Teaching
Davis Award Winner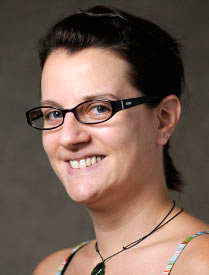 Erin Cozens
Manoa
Erin Cozens is a doctoral candidate in the Department of History at UH Manoa. She has been a teaching assistant since fall 2007.
In that capacity Cozens has served as an assistant to faculty and has also taught her own courses in world history. Her faculty supervisors praise her very highly stating that she teaches with "unadulterated joy."
Cozens works diligently at being a good teacher and shows that she values each and every student in her classes. Students describe her as humble, approachable, knowledgeable, detailed and passionate.
The Frances Davis Award for Excellence in Undergraduate Teaching recognizes dedication and demonstrated excellence as teachers of undergraduate students. It was established as a memorial to the late Frances Davis, who taught mathematics at Leeward Community College and UH Manoa for 19 years.
Select a recipient for more about that individual or view winners from 2002-2006.
2011
2010
2009
2008
2007
Past winners from 2002-2006.