Frances Davis Award for Excellence in Undergraduate Teaching
Davis Award Winner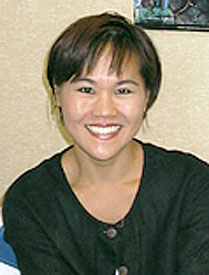 Heather Kurano
Manoa
Heather Kurano is a Spanish instructor in the Department of Languages and Literatures of Europe and the Americas at UH Manoa. Kurano is successful in making the Spanish language and Hispanic cultures "come alive" and be more real than theoretical by relating to students at their interest levels.
Whenever she travels to Spanish speaking areas, she brings back authentic, culturally relevant materials, and often incorporates video clips, radio excerpts, reading materials and music to expose students to the culture. A colleague observed, "There is no doubt that she is one of the most versatile and capable language instructors that we have in the Spanish program."
The Frances Davis Award for Excellence in Undergraduate Teaching recognizes dedication and demonstrated excellence as teachers of undergraduate students. It was established as a memorial to the late Frances Davis, who taught mathematics at Leeward Community College and UH Manoa for 19 years.
Select a recipient for more about that individual or view winners from 2002-2006.
2011
2010
2009
2008
2007
Past winners from 2002-2006.