Frances Davis Award for Excellence in Undergraduate Teaching
Davis Award Winner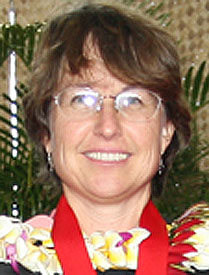 Lisa Parr
Hilo
Lisa Parr is an instructor of marine science at UH Hilo. She has a dynamic teaching style that captures her students' attention and is able to explain difficult and complicated ideas.
Parr always gets students involved, whether in lecture, lab or in the field. Her capacity for teaching students to interact with their community has raised the level of expectation in the marine science department as a whole. "She is passionate about seeing her students succeed and shows them ways of teaching themselves through real life experiences and field activities," noted a colleague. Parr is an excellent teacher, advisor and mentor who wants the best for her students.
The Frances Davis Award for Excellence in Undergraduate Teaching recognizes dedication and demonstrated excellence as teachers of undergraduate students. It was established as a memorial to the late Frances Davis, who taught mathematics at Leeward Community College and UH Manoa for 19 years.
Select a recipient for more about that individual or view winners from 2002-2006.
2011
2010
2009
2008
2007
Past winners from 2002-2006.