Frances Davis Award for Excellence in Undergraduate Teaching
Davis Award Winner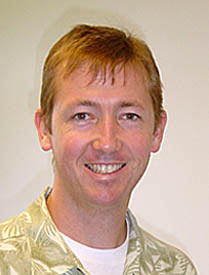 Jason Turner
Hilo
Jason Turner is an assistant professor of marine science at the University of Hawai'i at Hilo who challenges his students to attain high levels of knowledge. He strives to present information in interesting and memorable ways.
Turner's lessons on topics like marine mammal biology and connectivity of aquatic food webs can be confusing to students, but they note that he doesn't cause anxiety over complex material. Students appreciate his approachability and his "high, but not unreasonable standards."
The Frances Davis Award for Excellence in Undergraduate Teaching recognizes dedication and demonstrated excellence as teachers of undergraduate students. It was established as a memorial to the late Frances Davis, who taught mathematics at Leeward Community College and UH Manoa for 19 years.
Select a recipient for more about that individual or view winners from 2002-2006.
2011
2010
2009
2008
2007
Past winners from 2002-2006.