Regents' Medal for Excellence in Teaching
Teaching Medal Award Winner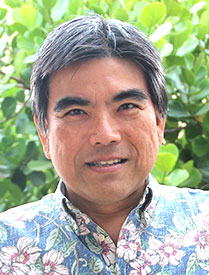 Roy Y. Kamida
Leeward
Roy Kamida is an accounting professor at Leeward Community College.
For more than 30 years, Kamida has shown himself to be an exemplary teacher, with commitment, dedication and energy. His student-centered style allows him to help students through all modalities, whether it is a traditional face-to-face, an online, or a hybrid class. The large number of former students who have attributed their professional success to his teaching is perhaps the greatest testament to his achievement as a teacher.
Kamida's college service is also commendable, having served as business division chair, faculty senate member and accounting program coordinator numerous times.
He is a past president of Hawai'i Business Education Association and was recognized with the Distinguished Service Award for Outstanding Contributions to Business Education by HBEA.
The Regents' Medal for Excellence in Teaching is awarded by the Board of Regents as tribute to faculty members who exhibit an extraordinary level of subject mastery and scholarship, teaching effectiveness and creativity and personal values that benefit students.
Please contact your Campus Chancellor's Office for more information on the application process.
Current Winners
Go to UH News for stories on the latest honorees.
1965–2014 Honorees
2014 | 2013 | 2012 | 2011 | 2010 | 2009 | 2008 | 2007 | 2006 | 2005 | 2004 | 2003-1965
2015

Pia Arboleda
Manoa

Brian L. Cassity
Kapi'olani

Julia Eve Hammer
Manoa

Roy Y. Kamida
Leeward

Katie Landgraf
West O'ahu

Justin D. Levinson
Manoa

Victoria Mathis
Kaua'i

Aaron T. Ohta
Manoa

L. Ayu Saraswati
Manoa

Ron D. Solis
Manoa

Norman Takeya
Honolulu

Charles Whitten
Windward