Regents' Medal for Excellence in Teaching
Teaching Medal Award Winner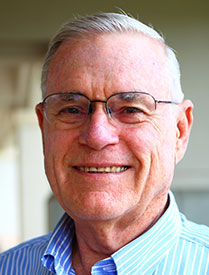 Charles K. Whitten
Windward
Charles Whitten is a professor and counselor at Windward Community College.
Whitten has great compassion for students and their families, is a light of hope to those in need of encouragement and is a humble and respected leader.
For nearly 40 years, Whitten has taught classes, counseled students and served the college and university in numerous capacities. Whitten offers hope to many students who are struggling in their classes or are dealing with personal trials. He listens with care and patiently helps students who are frustrated, overwhelmed, and in some cases, have a great sense of hopelessness—all reasons to discontinue their pursuit of education. Whitten is a voice of comfort and reason and has guided many students through rough times.
As a senior member of the student affairs staff, Whitten's knowledge, wisdom and experience provides stability to a busy department.
He is a respected leader who has served as acting dean many times and represented the college in various Faculty Senate roles, participated in numerous strategic planning and campus committees and served on a number of accreditation teams for the college.
His commitment to Windward CC is genuine as he continues to serve both student and institution with excellence.
The Regents' Medal for Excellence in Teaching is awarded by the Board of Regents as tribute to faculty members who exhibit an extraordinary level of subject mastery and scholarship, teaching effectiveness and creativity and personal values that benefit students.
Please contact your Campus Chancellor's Office for more information on the application process.
Current Winners
Go to UH News for stories on the latest honorees.
1965–2014 Honorees
2014 | 2013 | 2012 | 2011 | 2010 | 2009 | 2008 | 2007 | 2006 | 2005 | 2004 | 2003-1965
2015

Pia Arboleda
Manoa

Brian L. Cassity
Kapi'olani

Julia Eve Hammer
Manoa

Roy Y. Kamida
Leeward

Katie Landgraf
West O'ahu

Justin D. Levinson
Manoa

Victoria Mathis
Kaua'i

Aaron T. Ohta
Manoa

L. Ayu Saraswati
Manoa

Ron D. Solis
Manoa

Norman Takeya
Honolulu

Charles Whitten
Windward