Regents' Medal for Excellence in Teaching
Teaching Medal Award Winner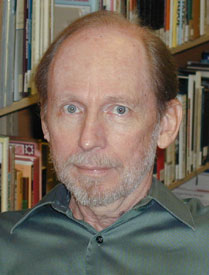 Gerald D. Browne
Kaua'i
During his 27 years on Kaua'i Community College faculty, Assistant Professor of English Gerald D. Browne taught a variety of literary courses, including first-year composition, developmental writing, survey of British literature and Japanese literature in translation.
Until his retirement in June 2005, he was a long-time member of the written communication and composition directors committees.
Browne believes that the teaching/learning process is a joyful enterprise that helps us develop more fully as human beings. A student commented, "He was always so knowledgeable about each author; he spoke as if he knew them, and in turn you felt more connected to them."
The Regents' Medal for Excellence in Teaching is awarded by the Board of Regents as tribute to faculty members who exhibit an extraordinary level of subject mastery and scholarship, teaching effectiveness and creativity and personal values that benefit students. The board also awards the Regents' Medal for Excellence in Research.
Select a recipient for more about that individual.
Current awardees and links to archives.
2005

Gerald D.
Brown
Kaua'i

Duane Clark
Maui

Douglas
Crowell
Kapi'olani

Catherine Fulford
Manoa

Anthony Guerrero
Manoa

Terry Hunt
Manoa

Antoinette Martin
Windward

Paul
Onomura
Honolulu

Rebecca Ostertag
Hilo

Petri Pieron
Hawai'i

Wesley
Teraoka
Leeward

Eric
Yamamoto
Manoa