Regents' Medal for Excellence in Teaching
Teaching Medal Award Winner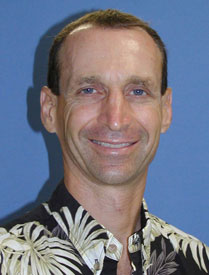 Douglas Crowell
Kapi'olani
An instructor in anatomy and physiology at Kapi'olani Community College, Douglas Crowell is coordinator of exercise and sport science. He provides his students with the knowledge and skills to succeed as fitness professionals and personal trainers within the health and fitness industry.
Crowell coordinated the creation of an associate of science degree in exercise and sport science, which was approved by the Board of Regents in fall 2004. Crowell also helped to create a certificate of competence in safety, injury prevention and conditioning techniques for coaches.
His commitment to campus wellness has motivated him to offer classes and workshops that focus on personal wellness.
The Regents' Medal for Excellence in Teaching is awarded by the Board of Regents as tribute to faculty members who exhibit an extraordinary level of subject mastery and scholarship, teaching effectiveness and creativity and personal values that benefit students. The board also awards the Regents' Medal for Excellence in Research.
Select a recipient for more about that individual.
Current awardees and links to archives.
2005

Gerald D.
Brown
Kaua'i

Duane Clark
Maui

Douglas
Crowell
Kapi'olani

Catherine Fulford
Manoa

Anthony Guerrero
Manoa

Terry Hunt
Manoa

Antoinette Martin
Windward

Paul
Onomura
Honolulu

Rebecca Ostertag
Hilo

Petri Pieron
Hawai'i

Wesley
Teraoka
Leeward

Eric
Yamamoto
Manoa