Regents' Medal for Excellence in Teaching
Teaching Medal Award Winner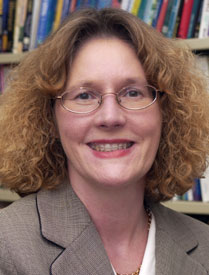 Catherine Fulford
Manoa
A professor of educational technology at UH Manoa, Catherine Fulford's expertise is in instructional design, a process that involves collecting data about the learner, learning environment and instruction, and then developing and revising instruction based on the results.
In order to hone her skills in each aspect of design, Fulford worked at all levels of the instructional system and uses these same principles in designing and teaching her classes.
With a background in theatre, Fulford has a flair for creating a learning environment that is dramatic, exciting, engaging and inspiring for her undergraduate and graduate students.
The Regents' Medal for Excellence in Teaching is awarded by the Board of Regents as tribute to faculty members who exhibit an extraordinary level of subject mastery and scholarship, teaching effectiveness and creativity and personal values that benefit students. The board also awards the Regents' Medal for Excellence in Research.
Select a recipient for more about that individual.
Current awardees and links to archives.
2005

Gerald D.
Brown
Kaua'i

Duane Clark
Maui

Douglas
Crowell
Kapi'olani

Catherine Fulford
Manoa

Anthony Guerrero
Manoa

Terry Hunt
Manoa

Antoinette Martin
Windward

Paul
Onomura
Honolulu

Rebecca Ostertag
Hilo

Petri Pieron
Hawai'i

Wesley
Teraoka
Leeward

Eric
Yamamoto
Manoa