Regents' Medal for Excellence in Teaching
Teaching Medal Award Winner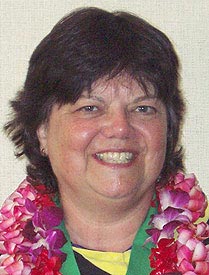 Laurel Gregory
Hawai'i
Students, faculty and staff speak highly of UH Center West Hawai'i Librarian Laurel Gregory's rigor and discipline in researching and problem-solving as they sought her assistance on a variety of topics.
As a model of life-long learning, she has inspired others to pursue their educational goals and has provided positive experiences to many on their journeys. Her contributions on numerous library councils have resulted in sharing resources between UH libraries, consistent library policies and increased access to electronic and print resources.
"She is truly a 'Renaissance' woman," noted a colleague.
The Regents' Medal for Excellence in Teaching is awarded by the Board of Regents as tribute to faculty members who exhibit an extraordinary level of subject mastery and scholarship, teaching effectiveness and creativity and personal values that benefit students. The board also awards the Regents' Medal for Excellence in Research.
Select a recipient for more about that individual.
Current awardees and links to archives.
2006

Danny Aiu
Honolulu

Denise Antolini
Manoa

Rhonda Black
Manoa

Manuel Cabral
Leeward

Kathryn Fletcher
Maui

Anne Freese
Manoa

Judith Gersting
Hilo

Laurel Gregory
Hawai'i

Andrew Harris
Manoa

Keith Kashiwada
Kapi'olani

Brian Richardson
Windward

William Sharkey
Manoa

Nevzat Soguk
Manoa

Albert Spencer
Kaua'i