UH Manoa Chancellor's Award for Outstanding Service
Service Award Winner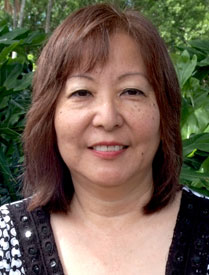 Sandra Enoki
Sandra Enoki is a secretary of the Department of American Studies. As the department's secretary for 26 years of her 31 years at UH, Enoki is indeed the center and heart of the department. She is highly respected by current and former chairs, faculty and students for her initiative, knowledge and dedication.
As the "command center," she ensures the department operates in an effective and harmonious manner by providing calming advice and navigating through the bureaucracy.
Her positive outlook, remarkable sensitivity and excellent problem solving skills contribute to a collegial atmosphere where all place absolute trust in her judgment.
The University of Hawai'i at Manoa Chancellor's Award for Outstanding Service honors Manoa staff members who demonstrate outstanding work performance, service and leadership. Criteria include record of competence and efficiency, exceptional contribution in the attainment of program objectives, creative solutions to difficult problems, integrity and dedication to the mission of a program.
Select a recipient for more about that individual.