UH Manoa Chancellor's Award for Outstanding Service
Service Award Winner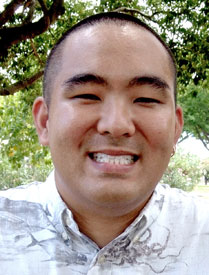 Kyle Hamada
Kyle Hamada, a preservation specialist at Hamilton Library, is responsible for the paper conservation and pest management activities. During his five years of service, Hamada has been an unsung hero and critical team member in the preservation and re-building of library resources after the 2004 flood and many rainy seasons.
Hamada continuously checks existing and new leaks during weekends to minimize damage and establishes appropriate protocols. His creativity and problem solving skills have ranged from building drying racks used to treat and quickly dry materials to the "Hamada canopy," which diverts water and protects library resources.
Hamada works collaboratively with fellow staff and is able to quickly rally staff and students in times of emergency. His dedication, knowledge and initiative are instrumental in the protection of library collections.
The University of Hawai'i at Manoa Chancellor's Award for Outstanding Service honors Manoa staff members who demonstrate outstanding work performance, service and leadership. Criteria include record of competence and efficiency, exceptional contribution in the attainment of program objectives, creative solutions to difficult problems, integrity and dedication to the mission of a program.
Select a recipient for more about that individual.