UH Manoa Chancellor's Award for Outstanding Service
Service Award Winner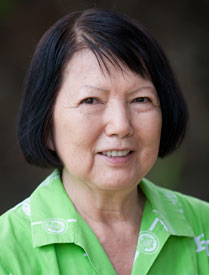 Hatsuko Kaulukou
Hatsuko Kaulukou has served as a janitor in Buildings and Grounds Management for more than 17 years. She is described as an "angel from heaven" and admired for her constant smile, positive attitude and exemplary work ethic.
Doing what is necessary to get the job done without complaint, Kaulukou's approach to dealing with building challenges are often emulated by admiring colleagues. She adheres to a top standard of performance, which results in spotless classrooms and restrooms, shiny water fountains and immaculate highly trafficked areas.
Kaulukou's dedication to exceptional service goes beyond covering her own assignments, as she fills in whenever and wherever needed. The pride that she takes in her appearance and workplace is evident, in details ranging from pressing her uniform daily to beautifying the women's restrooms with fresh flowers.
She donates her unused vacation annually to others, which reflects the genuine care she has for those she works with and the aloha that she exudes for the campus.
The University of Hawai'i at Manoa Chancellor's Award for Outstanding Service honors Manoa staff members who demonstrate outstanding work performance, service and leadership. Criteria include record of competence and efficiency, exceptional contribution in the attainment of program objectives, creative solutions to difficult problems, integrity and dedication to the mission of a program.
Select a recipient for more about that individual.