UH Manoa Chancellor's Award for Outstanding Service
Service Award Winner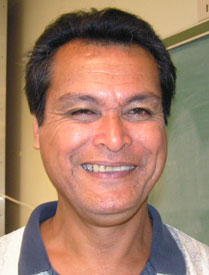 Angel Magno
Angel Magno is an agricultural research technician and farm foreman with the College of Tropical Agriculture and Human Resources. He is responsible for the management of a team that implements field experiments and collects research data in Hawai'i County. Magno does his job exceptionally well.
With 27 years of service, his leadership on the farm and his dedication to the county and agriculture industry through education and training are respected and appreciated.
Magno applies his problem-solving and technical skills to repair and maintain farm equipment and facilities to better serve the community and these efforts have also reduced operational costs.
The University of Hawai'i at Manoa Chancellor's Award for Outstanding Service honors Manoa staff members who demonstrate outstanding work performance, service and leadership. Criteria include record of competence and efficiency, exceptional contribution in the attainment of program objectives, creative solutions to difficult problems, integrity and dedication to the mission of a program.
Select a recipient for more about that individual.