UH Manoa Chancellor's Award for Outstanding Service
Service Award Winner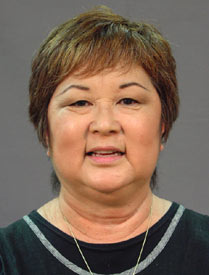 Barbara Omoto
Barbara Omoto is a secretary for the men's basketball program in the Department of Intercollegiate Athletics. With 10 years of service, Bobbi, as she is known, is endeared by co-workers and student-athletes for her professional and cheerful manner and for her ability to multi-task while exhibiting the aloha spirit.
In addition to providing administrative support for the men's program, Omoto voluntarily assumed the same role for the women's basketball program, often working extra hours for both programs.
Outside of her administrative role, she assists with booster club operations, works sideline control for football games and coordinates the Balloon Brigade for men's and women's basketball games.
The University of Hawai'i at Manoa Chancellor's Award for Outstanding Service honors Manoa staff members who demonstrate outstanding work performance, service and leadership. Criteria include record of competence and efficiency, exceptional contribution in the attainment of program objectives, creative solutions to difficult problems, integrity and dedication to the mission of a program.
Select a recipient for more about that individual.