UH Manoa Chancellor's Award for Outstanding Service
Service Award Winner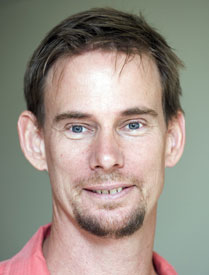 Gary Rodwell
Gary Rodwell is an information technology specialist with UH Manoa's Office of Undergraduate Education.
Employed at Manoa for 12 years, Rodwell took the campus Banner student information system and put a face on it, which is known today as STAR. With his foresight, expertise and can-do attitude, Rodwell continues to develop new access to information, including the development of Giving Tree, which keeps students current on timely scholarship information via the online process, and Data Matrix screens, which give faculty and administrators timely access to course availability, enrollment information and student demand during registration.
Rodwell's work has fundamentally changed the way that students engage with the campus, and so empowered them with information that they now view themselves as participants in their academic journeys.
The University of Hawai'i at Manoa Chancellor's Award for Outstanding Service honors Manoa staff members who demonstrate outstanding work performance, service and leadership. Criteria include record of competence and efficiency, exceptional contribution in the attainment of program objectives, creative solutions to difficult problems, integrity and dedication to the mission of a program.
Select a recipient for more about that individual.