UH Manoa Chancellor's Award for Outstanding Service
Service Award Winner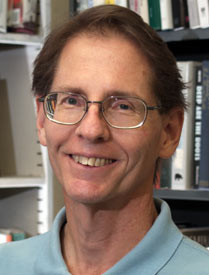 Stanley Schab
Stanley Schab is an editor with the Center for Biographical Research. With 13 years of service, he is described by colleagues as the heart and soul of the center, and is recognized for his intelligence, efficiency, persistence and integrity.
As the center's managing editor, Schab runs every aspect of the journal Biography, which has become the most prestigious venue for publication in the field of life writing. He is credited with improving production methods for the journal, which has resulted in enormous savings.
Schab is responsible for the coordination of the center's weekly Brown Bag speeker series, in addition to supervising the center's volunteers and student employees.
The University of Hawai'i at Manoa Chancellor's Award for Outstanding Service honors Manoa staff members who demonstrate outstanding work performance, service and leadership. Criteria include record of competence and efficiency, exceptional contribution in the attainment of program objectives, creative solutions to difficult problems, integrity and dedication to the mission of a program.
Select a recipient for more about that individual.