UH Manoa Chancellor's Award for Outstanding Service
Service Award Winner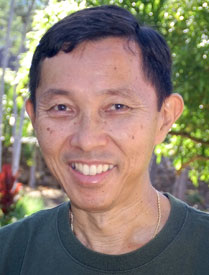 Wesley Seto
Wesley Seto is a buildings and grounds maintenance employee at the Institute for Astronomy. With a positive, can-do attitude, Seto keeps the institute looking at its best and is always willing to assist with a variety of matters.
He enthusiastically participates in various aspects of life at the institute and has taken an active role in the annual open house, including organizing and coordinating parking for the general public.
Seto is described as an ideal employee who is hardworking and conscientious. He is also active in community affairs as a Hawai'i Civil Defense volunteer.
His dedication and commitment during his 15 years at the University of Hawai'i has been greatly appreciated by everyone he has worked with.
The University of Hawai'i at Manoa Chancellor's Award for Outstanding Service honors Manoa staff members who demonstrate outstanding work performance, service and leadership. Criteria include record of competence and efficiency, exceptional contribution in the attainment of program objectives, creative solutions to difficult problems, integrity and dedication to the mission of a program.
Select a recipient for more about that individual.