UH Manoa Chancellor's Award for Outstanding Service
Service Award Winner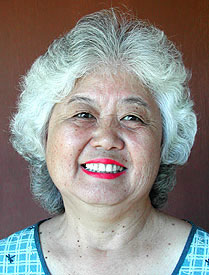 Ethel Murata
A secretary with the Cooperative Extension Service—O'ahu County, Ethel Murata has demonstrated unwavering loyalty and commitment during her 44 years of service. She works at the Urban Garden Center in Pearl City, where she accommodates the needs of faculty and volunteers from many different programs.
Her efforts have been most influential in the state 4-H Livestock program. Murata is an extremely effective liaison between state specialists, county agents and state and county livestock volunteers, which ensures the success of the annual 4-H livestock show, as well as many other community-related activities.
With more than 13,500 public visitors, 3,000 school-age visitors, 70 classes and 100 volunteers, the center has flourished through Murata's efforts.
The University of Hawai'i at Manoa Chancellor's Award for Outstanding Service honors Manoa staff members who demonstrate outstanding work performance, service and leadership. Criteria include record of competence and efficiency, exceptional contribution in the attainment of program objectives, creative solutions to difficult problems, integrity and dedication to the mission of a program.