UH Manoa Chancellor's Citation for Meritorious Teaching
Manoa's Meritorious Teachers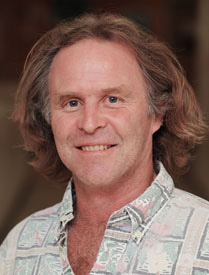 Jonathan Deenik
Tropical Plant and Soil Sciences
Jonathan Deenik is an associate specialist in the Department of Tropical Plant and Soil Sciences, part of the College of Tropical Agriculture and Human Resources. His approach to teaching is founded on core principles—a passion for teaching, a mastery of the subject matter, the expectation that students will rise to meet high standards and the creation of a safe and nurturing learning environment.
He strives to create lively and animated lectures combining the use of pictures and stories that bring the subject of soil sciences to life.
Deenik developed an extension program consisting of an educational component—including formal workshops and outreach to farmers, agricultural professionals and the general public—and a strong participatory research component directed toward practicing farmers.
The University of Hawai'i at Manoa Chancellor's Citation for Meritorious Teaching recognizes Manoa faculty members who have made significant contributions to teaching and student learning.
Select a recipient for more about that individual or view winners from 2002–2006.
2011
2010
2009

Kate Lingley
Art and Art History

Lois Magnussen
Nursing
2008
2007