UH Manoa Chancellor's Citation for Meritorious Teaching
Manoa's Meritorious Teachers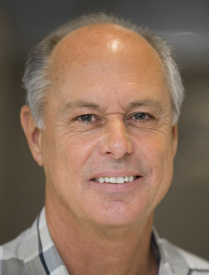 Michael Dunn
Human Nutrition, Food and Animal Sciences
Michael Dunn is an associate researcher in the Department of Human Nutrition, Food and Animal Sciences. He has made outstanding contributions to both his profession and the various nutrition and allied health fields, as well as to the training of graduate and undergraduate students through a well-balanced research and instruction program.
Dunn's core instructional duties are to teach basic science classes, such as nutritional biochemistry and the molecular effects of diet on disease processes. His nutritional biochemistry course is one of the most important knowledge domains for students majoring in food science and human nutrition.
Dunn also excels in teaching graduate students. Without his leadership and advocacy, it is unlikely that the new interdisciplinary PhD program in nutrition would have been approved.
The University of Hawai'i at Manoa Chancellor's Citation for Meritorious Teaching recognizes Manoa faculty members who have made significant contributions to teaching and student learning.
Select a recipient for more about that individual or view winners from 2002–2006.
2011
2010
2009

Kate Lingley
Art and Art History

Lois Magnussen
Nursing
2008
2007